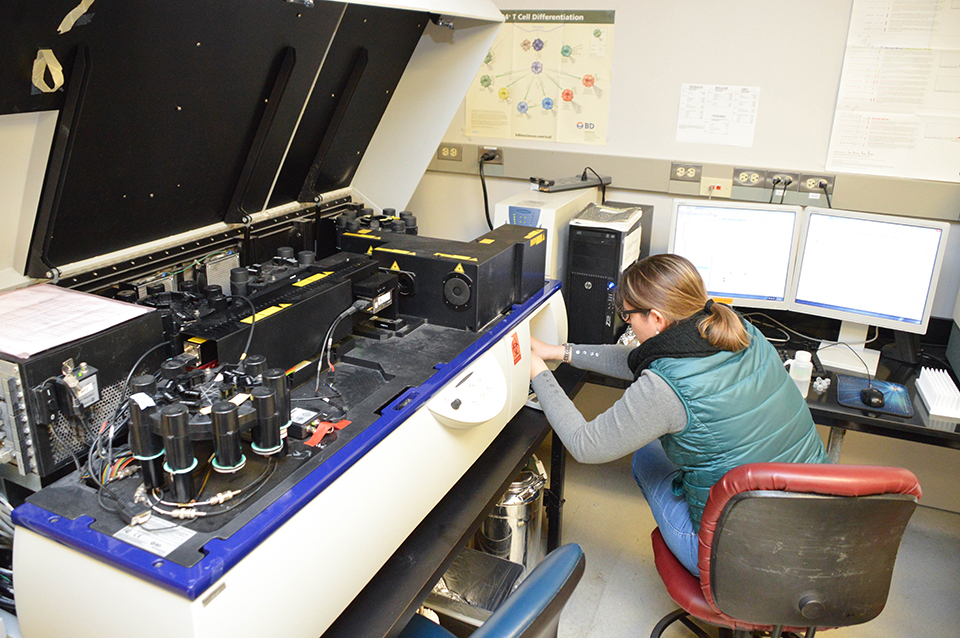 The Aim of the Flow Cytometry Core is to provide access to state-of-the art flow cytometry for all the participants in this Developmental Biology COBRE.
Facility Overview. The Flow Cytometry Core is directed by Dr. Jose-Alberola. It contains state-of-the-art flow cytometers and is described in detail on the OMRF website (omrf.org/research-faculty/core-facilities/flow-cytometry/).
The Flow Cytometry Core currently has Becton Dickinson FACSCalibur and LSRII analyzers in addition to two sorters, a Beckman Coulter MoFlo XDP and a Becton Dickinson FACSAriaIIu. The MoFlo is equipped with a Sapphire 488 laser, a Coherent Cube 640 laser and is capable of detecting 9 parameters. It is routinely used for 2-way and 4-way sorts at speeds of up to 30,000 cells/second as well as single cell deposition sorts. In addition to fluorescent proteins, the commonly used fluorochromes include FITC, PE, APC, PI, PE-Texas Red, PE-Cy5, PE-Cy7, PerCP-Cy5.5, Alexa 700, and APC-Cy7. A 407 nm laser will be added to the MoFlo before the end of 2015.
The FACSAria is equipped with 488 nm, 633 nm and 407 nm air-cooled lasers with advanced optics to detect up to 18 independent signals. A 561 nm yellow-green laser was installed in early December. This will make the capabilities of the FACSAria identical to those of the LSRII and will facilitate the development of new antibody staining panels. The 488 nm laser can be used to detect common fluorochromes including GFP, FITC, PE, PE-Texas Red, PE-Cy5, PerCP-Cy5.5, PE-Cy7, AF647, and PE-CF594, as well as PI. The 633 nm laser is used to detect APC, APC-H7, APC-Cy7, APC-Cy5.5, and Cy5. The 407 nm laser is used for the Brilliant Violet dyes, V450, and Hoechst and DAPI to evaluate DNA staining. The new 561 nm laser will enable more efficient activation of PE-containing fluorochomes. Furthermore, when FITC and PE are activated by different lasers (rather than both from the 488 nm laser), then the light emitted by FITC is physically separated from that emitted by PE and the need for compensation is minimized. This provides more flexibility in the choice of fluorochromes and enhances the ability to discriminate between different cell populations. Sort rates and sensitivity are comparable between the MoFlo the FACSAria. The physical footprint of the FACSAria is very small and maintenance is a fraction of that for conventional sorters. A gel-coupled cuvette and fixed nozzle alignment greatly simplify daily setup and operation.
Both the MoFlo and FACSAria are equipped with aerosol containment devices which ensure that any aerosolized particles are contained properly, making it safe to sort human samples. In addition to the acquisition of new lasers, both instruments have been upgraded with new PMTs, electronics, fluidics, and digital processors to provide enhanced capacity and increased stability leading to better sorting.
Our Becton Dickinson LSRII analyzer is equipped with 488 nm, 405 nm, and 561 nm 633 nm lasers. It is an excellent companion to the FACSAria, as the same combinations of antibodies can be used for analysis experiments or to design new staining panels. The FACSCalibur is a simpler instrument with two lasers (488 and 633 nm).
The Facility is housed in a custom designed, and carefully temperature-controlled two room suite in a renovated wing. The special air conditioning is quiet and does not generate strong air currents around the instruments. Furthermore, all power, water and computer connections are installed in optimal positions. All of our instruments are well maintained and covered by service contracts from the manufacturers.
The facility also provides access to analysis workstations loaded with state-of the art software, and performs regular backups of the data.
Staff. There are two full-time technicians who run the cell sorters and maintain the instruments. Mr. Jacob Bass has an undergraduate degree in physics, while Dr. Diana Hamilton used advanced instrumentation in her dissertation studies in analytical chemistry. They attended the MoFlo training course at the Dako Cytomation training facility in Ft. Collins, CO and BD Operator Courses in San Jose. These skilled technicians conduct all sorts for users, perform routine maintenance and database archiving on the instruments and provide guidance on staining, sorting, special applications and analysis. In addition, they train postdoctoral fellows, graduate students and technicians in operation of the FACSCalibur and LSR II. They each have 11-12 years of experience in the OMRF's flow cytometry facility. Having two operators that are trained on multiple instruments insures that there is no down time due to illness or vacations. The technicians often agree to work late or on weekends to help scientists in times of particular need.
Training. Mr. Jacob Bass and Dr. Diana Hamilton have extensive experience in training postdoctoral fellows, graduate students and technicians in operation of the FACSCalibur and LSRII. Training sessions span several hours of hands-on operation of the cytometers and are scheduled on demand. Additional informal training and troubleshooting are easily available as all the instruments are in the same location and the operators are always present. Unsupervised usage of the analyzers is only authorized after training has been completed.
Maintenance and instrument set-up. All instruments in the Flow Cytometry Core are covered by service contracts. Our operators are well-trained and capable of dealing with small repairs, maximizing the instrument availability. Calibration with fluorescent beads and cleaning of all instruments is regularly scheduled.
Access. Users gain access to the instruments through a web-based calendar. Sorters may be reserved two weeks in advance and analyzers can be reserved 1 month in advance.